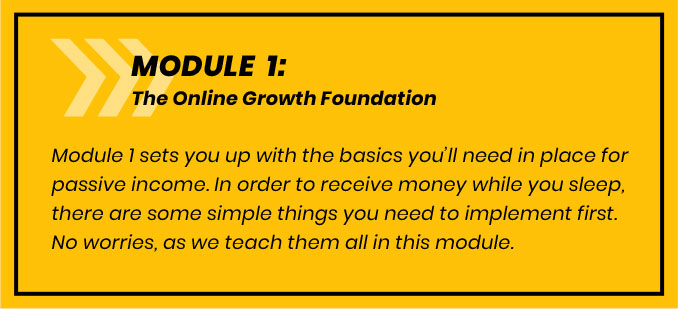 Creating Your Unique Brand
Before you can create a profitable online business, you need a clearly defined brand, voice and niche.
We'll teach you how to nail each of these things down with our exclusive E.A.T. (Experience, Authority, Trustworthiness) equation.

Identify Niche - Broad vs Narrow
You can go broad or narrow with your niche, and we've done both.
We'll lay out the pros and cons of each so you can choose what will work best for you from the get-go.

Pick Your Platform - Blogging, Video, Podcast - and Grow the Heck Out of It!
Seems like everyday brings a new social media platform.
Picking your top one or two channels can be about as fun as getting a root canal.
But we'll give you a complete guide to choose your channels, along with examples of how our company uses each of them.
Once you've picked your platforms, we give you the step-by-step on how to grow them quickly.

The MIP (Most Import Page) on Your Site (hint: it's not your homepage)
Many people assume your homepage is the most important page of your blog, but it's not. It's actually the About Page.
And there's a very specific way you need to write this page so it connect with your clients.
I break down for you WHY this page is the most important and give you instructions on how to properly structure your About Page to maximize conversions.

The Content Creation Mastery System
Worried you'll run out of ideas on what to share?
Think again.
Inside the Passive $1k Formula™, you're getting all my content creation tips, tricks and techniques.
I share specific strategies so you'll never run out of ideas as well as exercises to ensure you're creating content your audience is dying to read!

SEO Demystified
S-E-huh??!! That's what I thought, too.
But Search Engine Optimization is one of THE most powerful tools you can use to grow your passive income.
I'll show you how.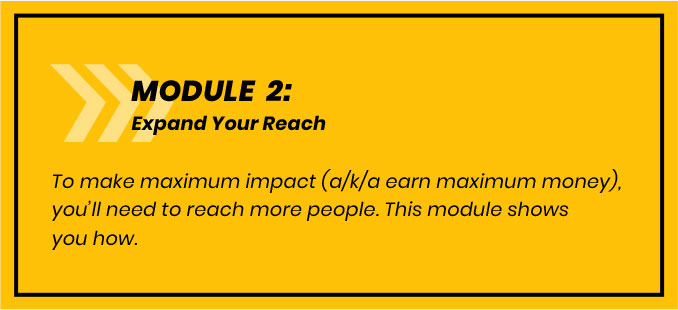 Your 5 Pillar Post™ Strategy
Before you promote your blog, you'll need THESE five posts to be live. I'll show you what they are and how to create them.

Nurture Your Tribe
The money is in the list. If you're not engaged in email marketing, you're seriously missing out on building your passive income.
I'll teach you how to grow your list and keep your readers engaged.

Increase Your Opt-ins By Up To 50%
If you don't know what lead magnet is, you for sure need this lesson.
I'll show you why your free opt-in is critical to your success and how to create one that's irresistible to your ideal clients and customers.
Plus I give you tons of examples of successful Lead Magnets.

The Increased Reach Solution
Super-charged tactics on how to hack your way to getting more eyeballs on your content.

Free Press Hacks
The only bad publicity is NO publicity.
This lesson shows you exactly how to get featured in local media AND gives you tactics to get noticed at a national news level!

The SEO Targeted Landing Page
This strategy is what initially led to me landing my first $2 million client.
It can be replicated across all niches and os still just as effective today as it was when I first launched it.

The SEO Targeted Landing Page 2.0
If SEO Lesson 1.0 led to a $2 million client, just imagine how profitable THIS lesson will be;-)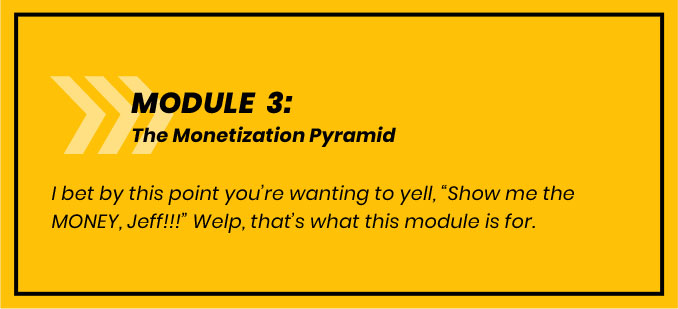 Banner Ads

I'll teach you how to use Google Adsense, Media.net, and additional online tools to get the money rolling in on autopilot.

Affiliates
Affiliates can add a huge income bump to your business.
This lesson covers how to find the right affiliate partners and how to implement the strategies to promote their products and services.

Sponsorship/Brand Deals
Landing a major sponsorship can put you on the map in any industry.
Here's how to cultivate relationships with sponsors that can lead to lucrative deals.

Online Coaching
The online coaching industry is absolutely booming.
You can get paid for your expertise online - even if you're only one or two steps ahead of your ideal client.
This lesson will show you exactly how to do it.

Digital Products
How does creating content ONE TIME and making money from it on repeat sound to you?
It's possible with digital products like online guides, mini-courses, and other leveraged offerings.
In this lesson, I'll give you the how-tos for creating products you can profit from while you sleep.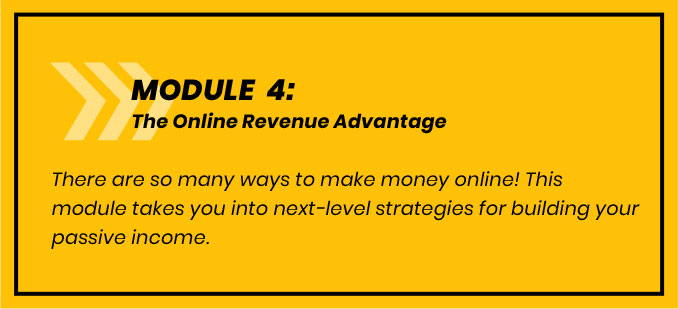 The Value-Driven Sales Funnel

Guess what?
You can actually repurpose your best blogs and emails and put them into automated sales funnels.
This lesson shows you how.

The Content Distribution Method
Here's where you get all my specific, proven strategies on how to promote your content for maximum exposure.

The Engagement Equation
We're not born knowing how to lead an audience of raving fans.
But you can learn this skill and keep your audience ultra-engaged.

Creating Your Own Unique Process
The easiest way to stand out from the competition is to name your thing and own it.
I outline how to create your process and then name it so others will be intrigued by your offer and find it irresistible.

The Webinar Rapid Success Blueprint
Webinars have been around for awhile, and they're here to stay.
This lesson gives you a behind-the-scenes pass at how you can create your first webinar and close sales on auto-pilot.

The Digital Product Incubator
How to effectively and efficiently create your first digital offering - AND GET PEOPLE TO BUY IT!

The No-Fail Launch Solution
How to launch your first major digital products without wasting your time.
Hint: get people to buy your idea before the product is even created.
Does this sound revolutionary?
I'll teach you how to do it in a totally authentic, sincere way, so your clients and customers can see results from the second they opt-in to your idea.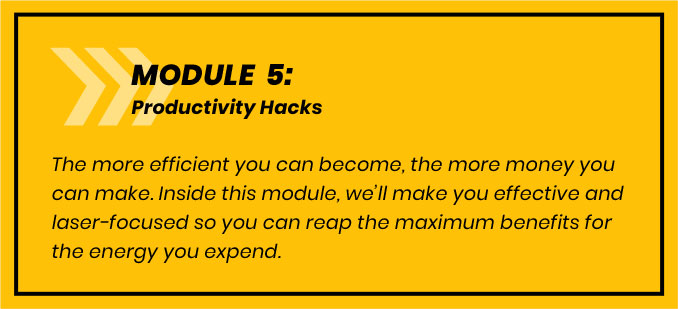 The Entrepreneur Time System

You'll learn how to effectively schedule your days to maximize your time and not waste it on time-suckers and energy vampires.

The WH™ Growth Cycle
Learn our signature Wealth Hacker Growth Cycle™ and begin to implement the underlying principles that allow people to become Wealth Hackers®.

Find Your Swag Zone
Many people struggle wasting time in tasks that don't move the needle for them.
Then they understandably feel exhausted and unfulfilled.
This lesson teaches you how to use your unique talents and operate exclusively in your Swag Zone - that zone where everything flows and you see maximum results for your efforts.